The Ultimate Seduction Parlor by Elizabeth Thames Foster
Editor's Note:  Our featured VV&W agent for October is Elizabeth Thames Foster. Here, she shares some wise advice she has for buyers. Check this space later in the week for her fun Q&A.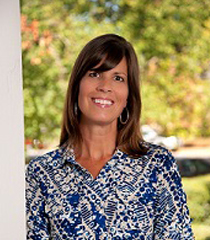 We recently got rid of cable.  I miss it sometimes but it has made our TV viewing more intentional.  My husband and I started watching  Netflix and discovered a series of nature shows called "Life" The narrator has a distinguished British accent and the episodes are broken down into groups of animals. We love it and have even talked our teenage kids into watching it with us.
We were all watching the "bird" episode and learned about a bird called a Bowerbird. They are closely related to birds of paradise and live in Australia and New Guinea.  It was fascinating because the birds decorate their homes very elaborately. They spend years building giant nests and they each have a color they are attracted to. They collect flowers, seeds, mushrooms and berries and use them as decorations. And they each have their own style!  One bird was attracted to oranges and reds and his neighbor prefers collecting blues and grays. Of course, like most things in nature, the main purpose of these displays of color is to attract a mate.  The narrator says, "this is no nest, it is the ultimate seduction parlor."
My family thought that was pretty funny, but it got me thinking about my job as a Realtor.  When you are trying to sell your home you do need to create a seduction parlor.  You are actually trying to seduce a buyer!  When you are trying to sell your home you want to put in the time and energy to make it attractive to buyers. Decluttering, depersonalizing, organizing, cleaning and staging are some things that sellers should do to make their property more attractive than the competition. I find that when a home is fresh, clean, neutral, bright and inviting it attracts a buyer quickly. In a saturated housing market, you have to make your nest the most seductive!
For Huntsville real estate news, including fine and historic homes available across North Alabama, join the VV&W Facebook page and newsletter.  Or give us a call at 256-539-0505.
Tweet