Q&A with Elizabeth Thames Foster
Editor's Note:  Our featured VV&W agent for October is Elizabeth Thames Foster.  Below is a fun Q&A we did with her recently.  Also, don't miss her excellent advice for homebuyers from earlier this month: The Ultimate Seduction Parlor.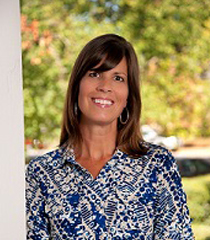 1.  What should a buyer or seller expect when working with you?  What makes you different from other agents?
I have never thought of myself as a salesperson.  When working with buyers, I truly want them to find the home that they love. There is nothing better than walking in a house and seeing the look on their faces that says…this is the one!
2. Why did you choose VV&W? What do you see as a client's greatest benefit to working with us?
I told Nancy that I took a big leap of faith when I got my Realtor's license because VV&W is the only place I pictured myself working. I am a good 8 inches taller than every Van Valkenburgh but I really feel like a part of the family!  I definitely think VV&W clients get more personal service.  The unspoken motto in our office is to "do the right thing for your client"  I see every agent in our office go above and beyond for our clients 24 hours a day.

3.  Favorite client story or something funny that has happened to you in your career.
I love this job because every single transaction is different.  I have had some crazy things happen…guy lounging on the couch as I am showing his house, raccoon falling out of a fireplace during the home inspection, extreme hoarding, escaped pets. It is always something.
4.  Are you named after anyone? – I am named after my mother.  I was actually named Katherine for one week!
My parents changed it because they wanted a family name. And the weird thing is…people sometimes call me Katherine!
5.  What was the last thing that  made you laugh uncontrollably?
I am in my car so much that I have started listening to things other than music.  I was listening to the Comedy Channel on XM Radio in the carpool line the other day.  The comedian Jim Gaffigan did a bit on body wash (google it)  I was hyperventilating with laughter but was trying to hold it together so I didn't freak out the other parents in carpool!
6.  Do you have kids?
Harry (12 and in 7th grade)  Margaret (16 and in 11th grade)
7.  Do you prefer chocolate or fruit?
I really try and eat healthy but chocolate is so much more fun than fruit.

8.  What's the first thing you notice about people?
I notice their warmth and sincerity.
9.  What is your eye color?
Boring old brown!
10.  Do you have any pets?
Too many…2 dogs Ruby (Mutt) and Wilbur (Pug) and 2 cats Rascal and Charlie.
Tweet