Editor's Note:  Here is a fun Q&A with our featured VV&W agent for December, Sarah Lauren Kattos. Also see her blog post from earlier this month, Ho, Ho, Home.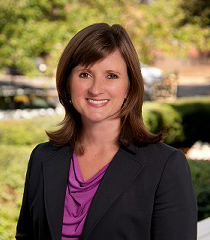 1.  What should a buyer or seller expect when working with you?  What makes you different from other agents?
Though I am responsible to my client, I work very hard to treat the parties on both sides of a transaction with respect.  The purchase or sale of real estate, even in the best of circumstances, can be pretty emotional or stressful, so I find that my value is in advising, explaining options and helping the client to arrive at their own decisions.
2. Why did you choose VV&W? What do you see as a client's greatest benefit to working with us?
Well, I guess VV&W actually chose me.  The company was started by my parents when I was in middle school and has been a family effort since Day ONE.  I am so proud when I look at our 33 year history, 3 changes of office, successes and the relationships we have built along the way.
There is a saying in the south called "Kith and Kin".  "Kin" would include the people you are directly related to by blood.  "Kith" are the people who come along the way and grow close to you and your family in a way that is more than mere friendship – they're related by choice.  The fact that our agents chose to voluntarily join our extended family is special in a way that is hard for me to put into words.  I'm very grateful for the people who are in our daily lives.
3.  Are you named after anyone? 
I am named for my aunt, Sarah Hereford and my middle name is actually for my great-great grandfather, Laurin McCranie.  He lived in the late 1800's in east Texas and thought Laurin was a girl's name, so he made people call him "Pete"…
4.  Do you prefer chocolate or fruit?
Definitely chocolate but there are many times I am just as happy with a bowl of sweet cereal to satisfy cravings.
5.  What's the furthest you've ever been from home? 
New Zealand, Tahiti and Bora Bora.  It was the trip of a lifetime with my grandmother that my parents made possible during my senior year in college. I wouldn't trade that time of adventure for anything in the world.
6. Do you have any pets?
I have a tiny ginger tabby cat with a bobbed tail.  He came to us after we lost our gigantic Maine Coon cat last year. I've never been a "cat" person, but these two changed my mind because both act like dogs.  This new little one even plays "fetch."
7. Who was your first best friend?
Growing up, I had two close buddies, Andrea and Gavin.  Andrea's mom was a REALTOR, too, so we had a lot in common home-wise and Gavin was the most beautiful girl in school.  Everyone wanted to be just like her, so I thought she was the coolest.  Sadly, we lost her to AML a few years ago.  In high school, my friend Kelley and I navigated the ups and downs of those years together.  In college, I met my "third sister", my best friend Susan, who lives in Tallahassee.  She makes the work of maintaining a friendship super easy.
8.  How tall are you?
I'm 5'1" if I stand up really super straight.
9.  Perfume?
Au the Blanc by Bulgari
10. What can you never leave home without?
My cellphone and my laptop.
11. Favorite date night activity?
Going to dinner and the movies.  We love to be low-key and relaxed in our downtime.

12. Favorite memory from childhood? Summers on Sun Valley Place in Blossomwood.  We lived 2 doors down from a German rocket scientist and his grandkids visited a lot in the summertime.  We did little parades around "the horseshoe" (which is what we called the Circle with its grassy island in the middle) singing "Lantana" carrying paper lanterns lit with little candles. I thought they were so beautiful. Cicadas, lightning bugs and paper lanterns instantly take me back to those days.
13. How would you describe your fashion sense?
Professional, yet relaxed, practical, tailored and comfortable. God bless stores that carry petite lines. I can never order clothes on the internet….
13. Tell us one of your bad habits!
Picking at my fingernails and cuticles.  My hands are the worst! When I was on HGTV's "HouseHunters" a few years ago, my failure at taking care of my hands came to a crisis point when the agreement with producers called for possible closeup shots of my hands. The nail salon loved me after that!